READY TO GET INTO THE BEST
SHAPE OF YOUR LIFE?
Miracle Sports Cream : Beyond CBD
Truly a miracle!!!
This cream has been amazing! I had foot blisters after a race and they were nearly gone the next day after i applied the cream. My husband's muscle cramps and pain go away with this cream. A friend said that it instantly took away arm muscle cramps and pain she had had for 2 months! Just be careful not to touch your eyes or your sensitive spots after applying the cream. :)
Good for post op
Recovering from knee surgery and I wanted to find something that would provide muscle relaxation and help me maintain blood circulation. I like to use it on my hips and massage it into my quad area. Haven't noticed if it has lessened swelling but I like the smell and quality so far.
results bEYOND CBD
Miracle Sports Cream is an all-natural, plant-based massage cream optimized for active lifestyles and those seeking breakthroughs in fitness and athletic performance. Its proprietary formula features a powerful lineup of 11 herbal extracts, including Arnica Montana and organic hemp CBD, designed to minimize pain & discomfort so you can feel your best.

Miracle Sports Cream's unique formulation allows its entourage of herbs to penetrate deep within the muscles and joints for long lasting relief. Benefits are even more pronounced when used daily and consistently, and combined with massage and stretching.

Whether you're an athlete, live an active lifestyle, or just need relief from the effects of aging, Miracle Sports Cream helps you feel your best, so you can live your best life.

*Miracle Sports Cream features the highest quality plant-based ingredients formulated to be safe and effective for daily use. 3rd party lab tests are conducted to ensure potency, quality, and that all products are free from contamination. Click here for 3rd party lab results.
MAXIMIZE BENEFITS
Miracle Sports Cream is one of the most versatile wellness products on the market.

● Use daily and consistently before and after workouts, and on areas of chronic issues.

● Massage into target areas until fully absorbed. The natural wax will seal the healing oils under the skin for maximum penetration and long term results.

● Apply heat or a wet towel once cream is applied to activate menthol for extra cooling.

● Combine with massage, stretching, and mobility exercises for a highly effective maintenance plan to balance and strengthen your body .

● Provides aromatherapy benefits for calm, focus, and tension release.

I was a competitive volleyball and basketball player for most of my life. After turning 50, my body started breaking down and I couldn't do a lot of the things I loved anymore. I can honestly say Miracle Sports Cream gave me 10 years back on my legs. I use it every day and my body feels amazing. It gave me my freedom back. Excellent product that does exactly what it promises.
Years of catching softball and playing golf took a toll. I'm 60 now and have had one knee replacement and thumb reconstruction. I got turned onto Miracle Sports Cream to aid in my recovery. It was indeed miraculous! My body loves to form adhesions and the use of this cream reduced adhesions to zero. The cream also helped me with pain and reduced inflammation/swelling. I love this stuff!
When I was in the hospital, I was given a diuretic that caused brutal cramps in my legs. It was some of the worst pain I've ever experienced. My brother brought me a jar of Miracle Sports Cream. I was skeptical but during a cramp, I put it on and the cramp relaxed in seconds. It was pretty unbelievable. I use it every day now and it's really changed my life. I'm active again in my 70s. Thank you.
Kareem R
NBA/BIG3 Basketball
Miracle Sports Cream is a godsend! It helped me get rid of a nagging tendinitis problem with my Achilles and had me at my best for the BIG3! It's now an important piece of my daily routine. This is a must have for pro athletes to compete at the highest level.

Hands down the best product I've ever used. Any middle aged person who works out must give this a try. The soreness after an intense workout goes away much faster. Typically takes me 3 to 4 days to fully recover, but this stuff gets me ready in 1 to 2. I'm definitely sticking to Miracle Sports Cream for life. Also doesn't hurt that it smells so good, unlike most products on the market today.
I hurt my shoulder and it was hard for me to turn my neck, cough, let alone workout. When I used Miracle Sports Cream, within a couple minutes, the pain had disappeared. I'd tried other products that couldn't fix this, but this stuff really works. You've got to try it for yourself!
Broad Spectrum Hemp Oil (No THC)
Derived from CO2-extracted organic hemp oil (never isolate), Miracle Sports Cream features over 180mg of cannabinoids (CBD) per every 2oz as well as 30+ terpenes, essential vitamins & minerals and omega fatty acids. 3rd party lab tested for purity.
Arnica Montana

Revered for centuries in Germany and other parts of Europe as a homeopathic remedy for swelling, bruising and muscle aches, Arnica Montana reduces inflammation while stimulating your body's own ability to heal.
Menthol (3%)

Never for masking, only for relief—Miracle Sports Cream is formulated with 3% menthol to provide powerful sweat/heat-activated cooling, while being gentle enough on the skin to be used multiple times a day.

Therapeutic-Grade Essential Oils

This is the secret sauce. Our proprietary blend of pure therapeutic-grade essential oils features powerful botanicals working synergistically to provide fast pain relief, reduce inflammation and stimulate blood flow.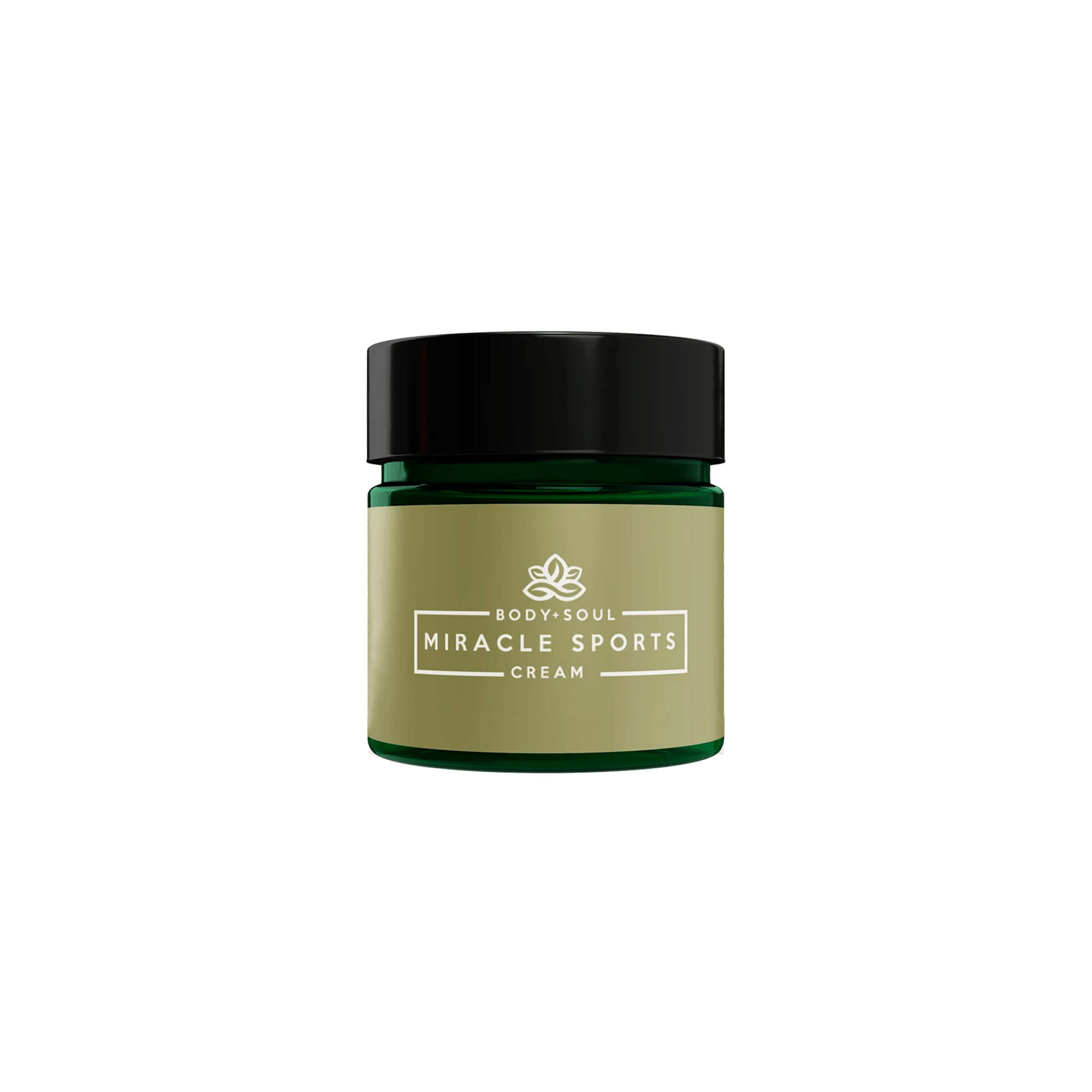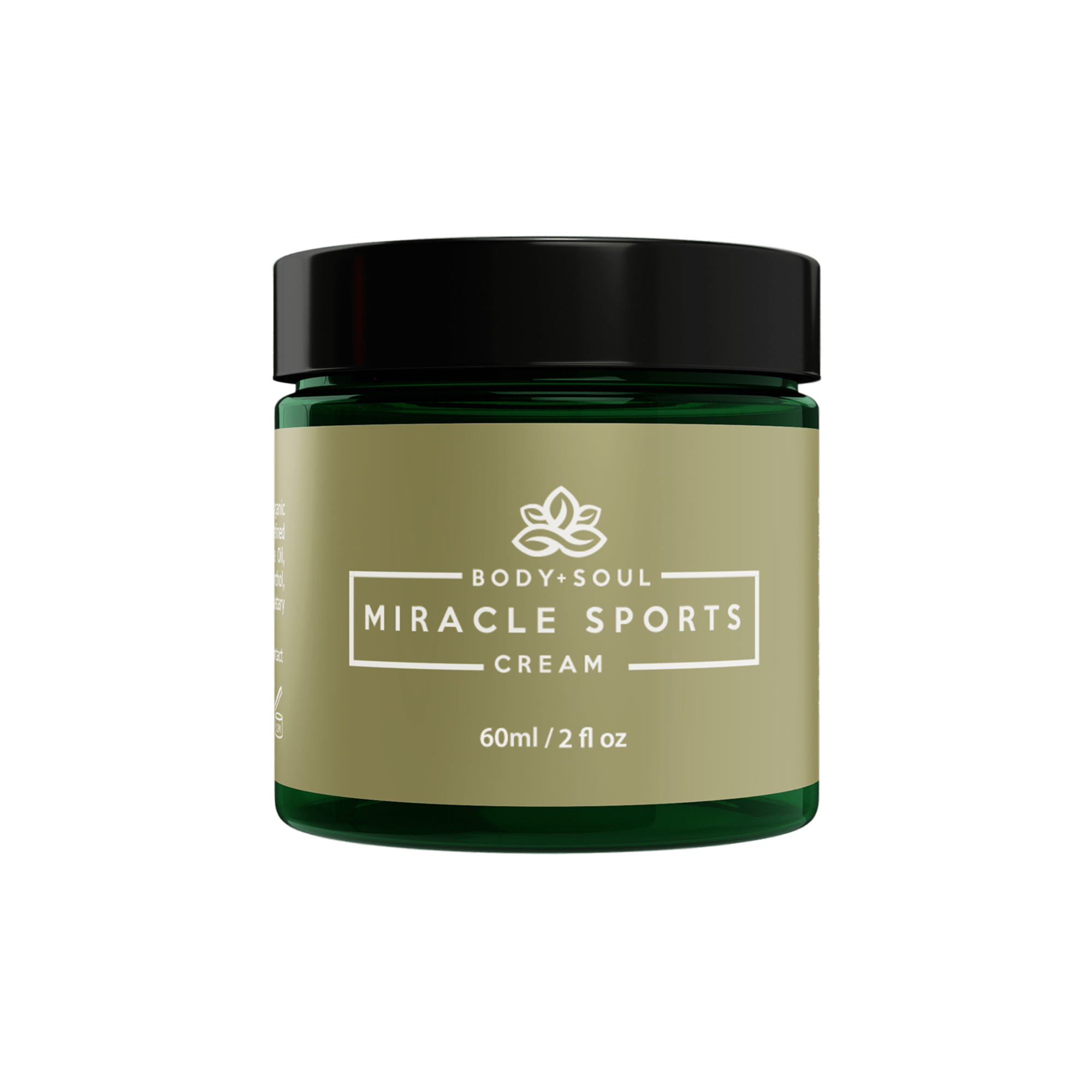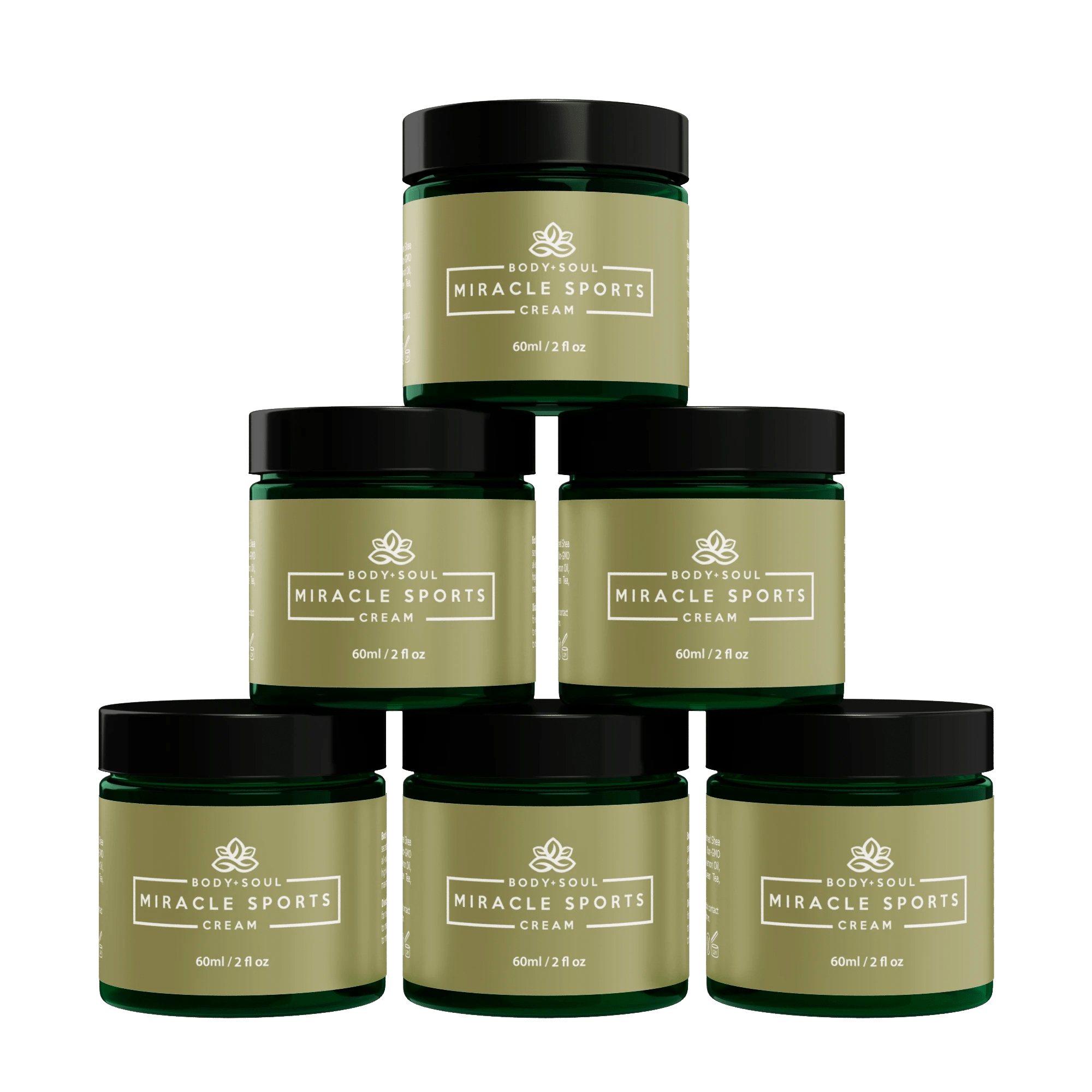 Miracle Sports Cream : Beyond CBD
$12.50
PREPARE
Apply pre-workout to increase blood flow and prime muscles for activity. This is the most important step: users report having more bounce in their legs and feeling less muscle fatigue.

UNLEASH
Apply mid-workout/competition as needed for sweat-activated cooling and soreness relief. Use IMMEDIATELY on muscle cramps.

RECOVER
Apply post-workout to minimize soreness and accelerate recovery.

Miracle Sports Cream empowers athletes to train harder, recover faster, and maximize performance. Trusted by professional and competitive athletes, it's 100% chemical free and features only the highest quality holistic ingredients for people who really care what goes into their bodies. If you're not using Miracle Sports Cream, you have not experienced your peak. This is the MUST-HAVE for every serious athlete and athletic trainer.

WE BELIEVE IN THIS PRODUCT 100%. TRY IT RISK-FREE WITH OUR 15-DAY LOVE-IT-OR-MONEY-BACK GUARANTEE!

Directions: Use pre-workout/competition to warm up muscles and reduce injury risk. Use during activity for heat-activated cooling and to relieve muscle tightness or cramps. Use post-workout to relieve soreness and accelerate recovery. Massage into target areas until absorbed. For best results, use daily and consistently before, during and after workouts.

Ingredients: Coconut Oil, Soy Wax, Arnica Montana Oil, Pure Unrefined Shea Butter, Full Spectrum Hemp Oil, Non-GMO Sunflower Lecithin, Menthol, Vitamin E Oil, Lemon Oil, Eucalyptus Oil, Camphor Oil, Organic Green Tea, Proprietary Blend of Essential Oils.

For more information, please visit our FAQs page.
No Pain ... All Gain. You Ready?

LIMITED TIME OFFER: Buy one 2oz or larger jar and get the 2nd one 50% off with code: BOGO50